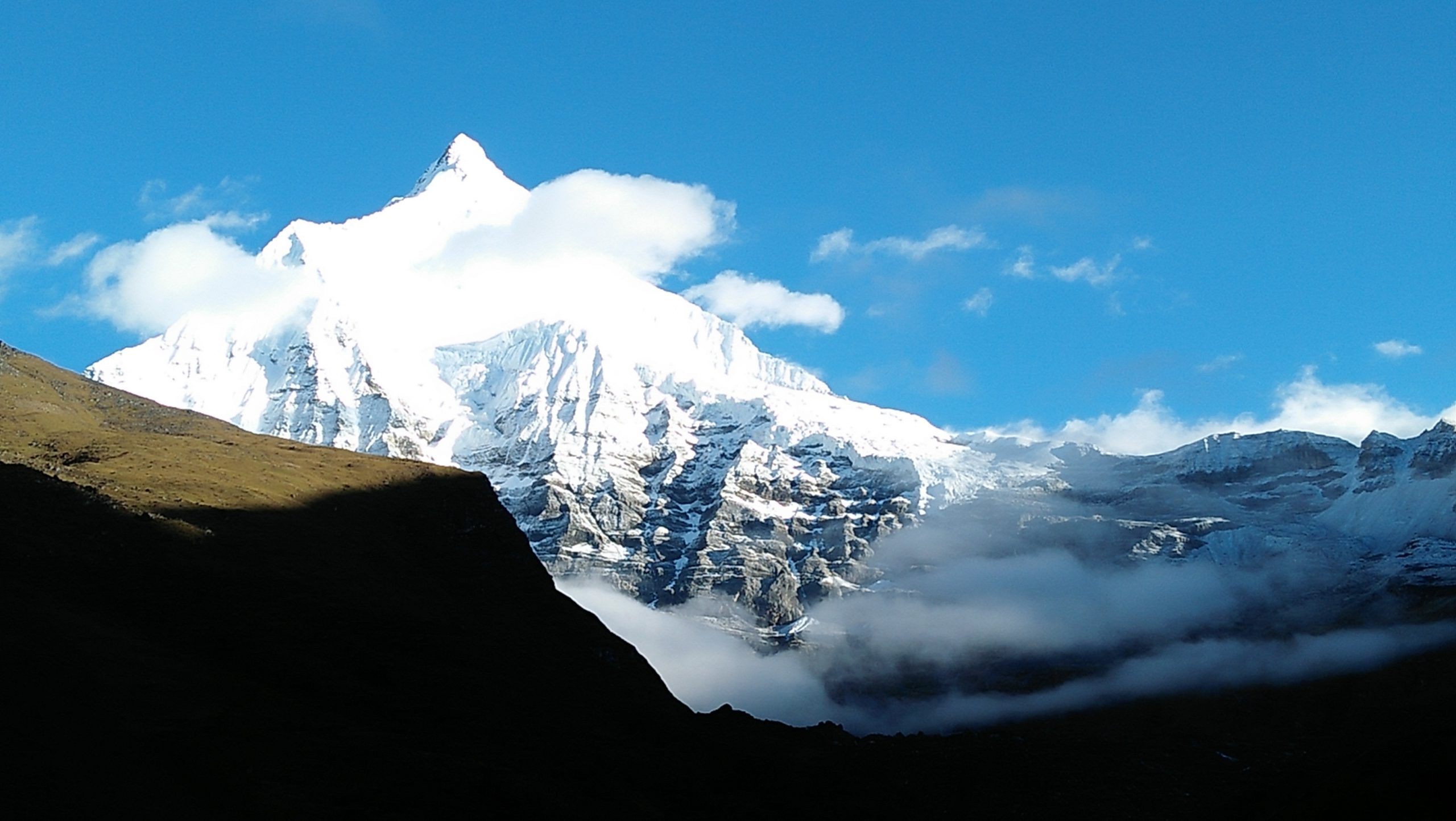 Views from the Sky
Let's face it: Helicopters are just cool. These machines are capable of hovering, an ability that heretofore belonged only to hummingbirds and insects. They can fly low over glimmering waterways or sweeping forests, and are incredibly dexterous, turning sharply in midair. Without a doubt, they are one of the most enjoyable and effective ways to travel. As far as we here in Bhutan are concerned, however, they are much, much more. They are a huge step forward in the country's transportation sector, and commerce overall. The birth of Royal Bhutan Helicopter Services Ltd marked a new era in this landlocked country, and our company continues to offer new benefits today. Bhutan Helicopter Services began operations in November 2015 and has safely transported more than 1,000 travelers. It has flown over 1,500 hours since operation begins.
The Geographic Challenges of Bhutan
---
To outsiders, Bhutan is known for its jeweled jungles and soaring peaks, situated as it is on the slopes of the Himalayas. Every year, thousands of tourists flock to the country to take in its gorgeous countryside, hike its trails and pay homage to Taktsang Palphug Monastery – a.k.a. the Tiger's Nest – which is one of the most stunning Buddhist sites on Earth. Clinging to the side of a cliff, and so named for the "tiger lair" caves that tunnel through it, the temple is a remarkable example of 17th century architecture.
In the last several decades, Bhutan has become more and more accessible to outsiders, especially given the motivation tourism provides. As of 2014, Bhutan's two airlines delivered almost a quarter million passengers to their destinations. It's an impressive number – but a problem remained.
To Bhutan's inhabitants, the country is not nearly so navigable. With steep mountain terrain, choked jungles and rivers too fast to use for transport, our nation relies on its network of farm roads. Despite building more than 10,000 kilometers of road in the last 50 years, the terrain still poses a challenge, and goods and services often face interruption.
Plus, Bhutan is landlocked between Tibet and India. As such, it has no ability to transport goods and trade by sea. Given the lack of feasible land on which to build airports, an effective helicopter network becomes even more important to the establishment of viable air services. Together, these reasons provided a solid impetus for the formation of an imperial helicopter company.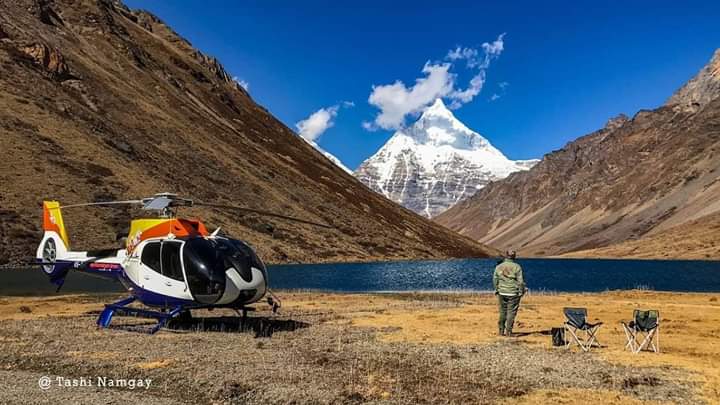 ---
Paro Helicopter Excursion
Add a short helicopter to any of our travel packages
60 Mints Ride Includes
Paro Valley Views
Tiger's Nest Views
Drukgyal Dzong Views
Mountain Jhomolhari Views

90 Mints Ride Includes
Paro Valley Views
Tiger's Nest Views
Drukgyal Dzong Views
Mountain Jhomolhari Views
⭐ MORE RELAXING AT STOPPING POINTS
---
60 mints viewing over
Maximum of 5 passengers per trip.
The helicopter scenic tour will begin by low overflying Paro valley covered in fertile rice fields along the meandering pa chu rover which divides Paro valley. It passes over ancient rural villages followed by some of Bhutan's most famous and prominent sights like Paro Rinpung Dzong built in 17th century which currently houses the administrative and monastic body of Paro. Slightly above the ridge is the Taa Dzong (currently National Museum) and minutes later a close up of the famous Tiger's Nest Monastery! It's a breathtaking experience to see the monastery from the sky.
Further heading North towards Mountain Jumolhari flying along the Pa Chu over the ruins of Drugyel Dzong built in 1649. Mountain Jumolhari which stands at 7,320 metres above the sea level is straddled between the autonomous region of Tibet and Bhutan. It is also one of the highest virgin peaks in the world. The helicopter would then land at the base campsite of Jumolhari (Jangothang 4117m) for a quick snack, tea and selfie time.
If you are lucky, you will get a chance to see the herds of Blue sheep, Pseudomonas, which are only found in the Himalayas.
---
A Customized Experience
At Bhutan Namzang happy tours & Treks, we specialize in introducing travelers to Bhutan, the colorful realm of the Thunder Dragon King. As the official representative of the Bhutanese Royal Government's National Carrier and a licensed tour operator in Bhutan, we provide all the services you need for a safe and memorable Bhutanese adventure.
Bhutan Namzang will handle your ticketing and visa paperwork, and help you plan a customized private journey, group tour or business trip to Bhutan. The charge for each helicopter tour is per trip, with a maximum of 5 passengers.
---
Helicopter Services
Helicopter services are available in Bhutan. Following are the charter fee for helicopter services to visit few of the tourist attracting sites in Bhutan.
| | | | |
| --- | --- | --- | --- |
| From | to | Landing Spots | Flt time (minutes) |
| Paro | Thimphu | Lungtenphu RBA Ground | 20 |
| Paro | Bumyhang | Batpalathang Airport | 110 |
| Paro | Laya | Langothang Village | 80 |
| Paro | Punakha | Zomling Thang | 50 |
| Paro | Trongsa | Sherubling HSS Ground | 80 |
| Paro | Manas | Manas Park Football Ground | 150 |
| Paro | Trashigang | Kanglung | 168 |
| Paro | Gasa | Gasa Public Ground | 52 |
| Paro | Haa | Imtrat Helipad | 12 |
| Bumthang | Gomthang | Hidden lake Tour(Bumthang-Gomthang-Bumthang) | 35 |
| Bumthang | Khoma | Traditional Textile Tour(Bumthang-Khoma- Bumthang) | 50 |
| Bumthang | Sakteng | Merak-Sakteng Tour (Bumthang-Sakteng-Merak-Bumthang) | 107 |
| Bumthang | Manas | Royal Manas Wildlife Tour (Bumthang-Manas-Bumthang) | 80 |
For further information Inquire Us
---
No request is too great and no detail too small. We are also here to assist you before your trip begins.
Inquire Us
---